The Transporter of Wilmington, NC is a transportation services company which prides itself on providing the cleanest, safest, and most reliable smoke-free experience possible. Whether you require an airport shuttle van for your family vacation or taxi service for two to a wedding, The Transporter provides top-notch transportation to and from airports, hotels, beach resorts, vacation homes, and more.
Our drivers are courteous and respectful and our vehicles are clean, comfortable, and 100% smoke-free. Private transportation services in the Wilmington area have never been so clean, worry-free, and affordable, as we will never overcharge for our services. Our dedication to customer satisfaction allows us to deliver an experience equally suitable for the business traveler requiring reliable late night service as it is for the retired passenger in need of safe medical transportation to a doctor appointment. Find out what our 400+ regular clients have already discovered: it doesn't matter if you're traveling for business or seeking taxi and shuttle services for your beach resort getaway…The Transporter is determined to satisfy your needs and exceed your expectations.


The Transporter is a Wilmington, North Carolina-based airport taxi and shuttle service providing transportation to the following locations:
All Regional Airports
Wilmington International Airport (ILM)
Raleigh-Durham International Airport (RDU)
Myrtle Beach International Airport (MYR)
Charlotte Douglass International Airport (CLT)
Albert J. Ellis Airport, Jacksonville, NC (OAJ)
New Bern-Simmons-Nott Airport (EWN)
Medical Transportation
New Hanover Regional Medical Center, Wilmington
Cape Fear Hospital, Wilmington
Brunswick Novant Medical Center, Bolivia
Dosher Memorial Hospital, Southport
Rex Hospital/UNC Health Care, Raleigh
Duke University Medical Center, Durham
University of North Carolina at Chapel Hill
Pitt County Memorial Hospital, Greenville
Hotels
All Hotels and Bed & Breakfasts Serving Wilmington and Southeastern North Carolina

The Transporter is a Proud Supporter of the Bald Head Island Conservancy and the Old Baldy Foundation.
A preferred transportation service for Bald Head Island residents and guests alike!


The Transporter provides top-notch transportation to and from airports, beach resorts, vacation homes, and more. See our vehicles below.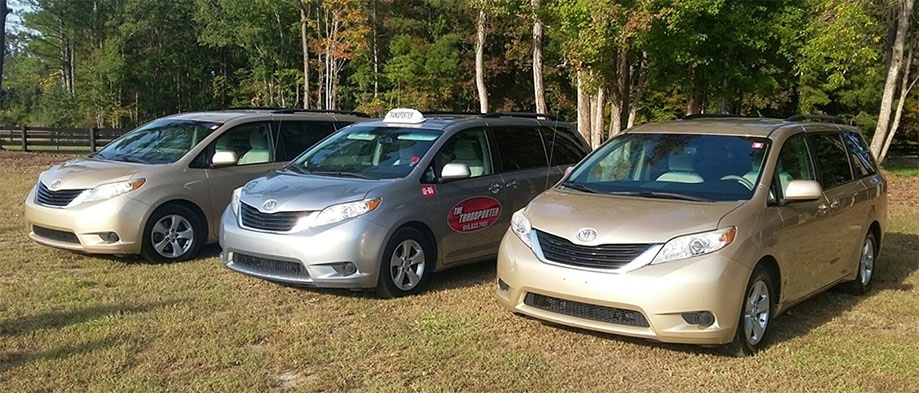 Toyota Sienna Minivans